Post by Jussi on Mar 28, 2013 22:28:55 GMT

Track:
Eagle Drive
Allowed cars:
All Class C cars that
are, have ever been
or
become available for in-game cash
(5 skill mods required). SpeedBoost versions of these cars are also allowed, including Drag, Juggernaut, Police and Treasure Hunt versions.
Restricted cars:
All cars that have
not
been available for in-game cash are not allowed!
Mode:
Singleplayer only, Multiplayer and Private match are not allowed
Power Ups:
None (impatient racers may use shield and ready, if there is traffic)
Screen 1:
Performance shop showing the 6 installed upgrades and performance values of the car
Screen 2:
Skill workshop screen showing the 5 skill mods installed on the car
Screen 3:
Unaltered
full size after race screen (using the resize tagging provided below).
Wait for 20 seconds before taking the screen or for the first AI driver to finish
Written confirmation:
Total time - Driver - Car - Overall - Level
(Please use the same name in all confirmation lines, even if you use different drivers)
Additional confirmation:
All entries have to be recorded at the reference board
HERE!
(You need to register your drivers for the leaderboard
here
.)
Leaderboard option 1:
In case reference board fails, link to personal leader board at
nfs-s.com/nfsw
must be posted below the confirmation line. Unranked times will not be accepted. If there's no leaderboard positions on your leaderboard, you need to consult the leaderboard staff about it.
Leaderboard option 2:
Register for the leaderboards at
nfsunlimited.net
and
join ISRC Leaderboard.
Then you can simply add
www.nfsunlimited.net/leaderboards/team/ISRC
below your confirmation line instead of your personal nfs-s.com URL.
Deadline:
April 4, 2013, Midnight GMT
Prizes:
There will be one lucky draw for vinyl pack and/or car code(s) after each round for 39 (or 48) fastest drivers of the round. There will also be one lucky draw for
greenman gaming Bronze Starter Pack(s)
for 39 (or 48) fastest drivers of the series.
Note: These rules are subject to change with or without prior notification.
Here's an example of the screens you need. They have to be readable size. Please use full size screens with the tags provided below this example. Also do not forget the written confirmation!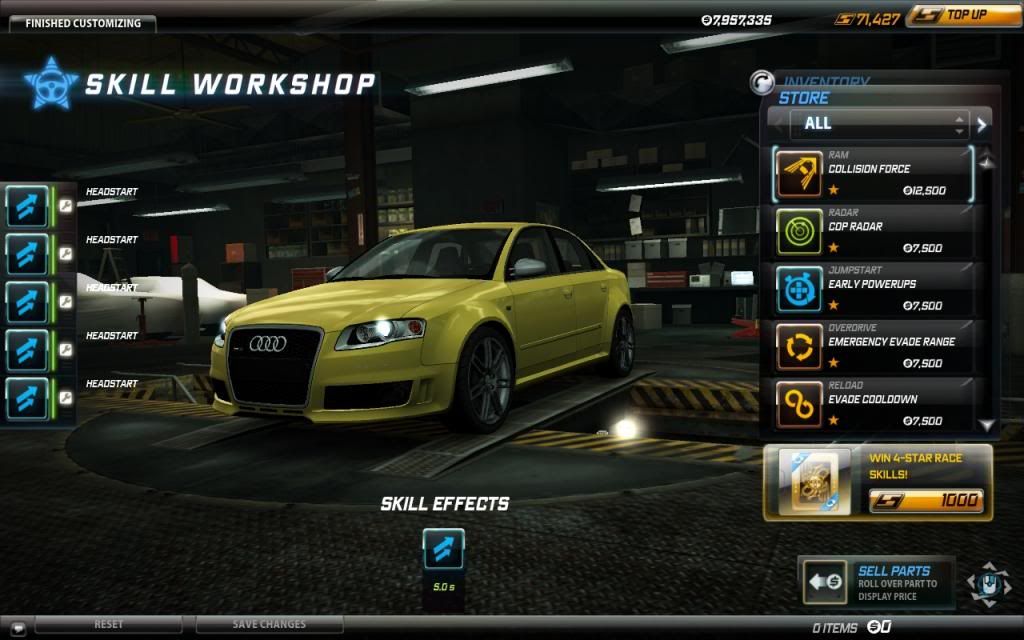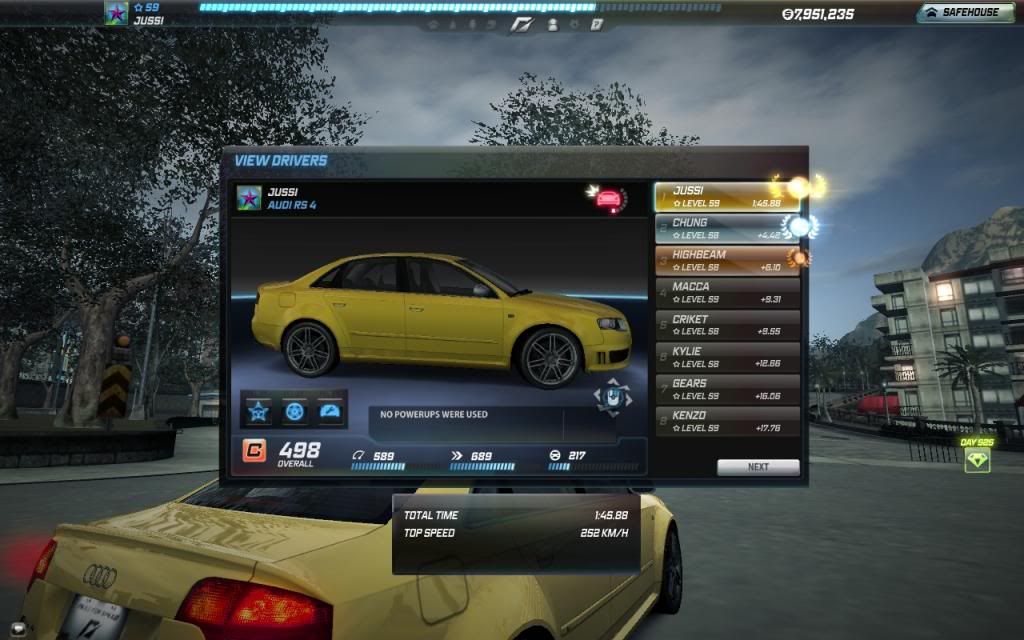 1:45.88 - JUSSI - Audi RS 4 - 498 - 59
nfs-s.com/nfsw/JUSSI
www.nfsunlimited.net/leaderboards/team/ISRC
Use this tagging for posting and resizing pictures: [img
width=700 height=438
]PICTURE_URL[/img]
If you use 4:3 resolution, you can use height=525 to maintain the aspect ratio. For 16:9 resolutions,
the correct parameter is height=394.
Jussi
_______________________________________________________________________________________
Drivers:
Drifteroftokyo
NEVILLES
ALLR1GHT
COOLASICE
TATTOON
ABDMASTER
BUMBILEK
BUMBILEK2
BUMBILEK3
GUST4VOAP
LAMBOGTRLM
DJXASHX
LIBYA
JUSSI
JSSKPPNN
MAAJUSSI
NFSJUSSI
ISRCJUSSI
JUSSIKAUPPINEN
CHICANEJUSSI
NOSAFEFORWORLD
Pumpedupkid
STR0NGF0RCE
CoolJUST
Time2Rest
Time2Rest2
FAHADWAHEED
SWOOS
SHWARZER
ZACKTALBI
Copkillar666
Copkillar777
S3XAPPEAL
LP6704SVSPIDER
PRAS26
ILOVEIMPORTS99
Magster
Magster2
Gigaxer0
kashifkim
DANI5H
YUUFA4LIV
YUUFA237
YUUFA777
GTSF
KEVAL
THEONNLYONE
EavesDr0p
Sparco23
GHOSTRIDERTROL
VVTROLL3RVV
mani802
S3BY015
KAJAMAC
WHISKEYANDCOLA
TATASMOULA58
WISPOSMOKE
SILENTDREAM
Aditya704
STRONGHOLD909
LEGOR17
IANISM
FREESHRUGS
IANISM2
ashley872
Tractor1stu
FasterthaMyou
BYTESX64
VICTORGRAYWOLF
K9UNITE
KAMIEKAZIE
KAMEIKAZE
SPORTJUNKIE
FORZATUNISIA
RACERBE5T
Timeluster
Timeluster91
AllTheWay
NEKHOLU
RICCARDO17
RICCARDO71
RUSS1E
R1CARDONL
JOHNNYWALKER65
WGUNIQUE
THEDEVIL89
DARK5TYL3
SP33D3V1L015
kiria199110122
UNLUCKYDR1VER
WGS3BY15
1FUAD
PROUV
WGSTRONG
WGYUUFA
KSDA786
XOSTHING
Mariusyk97
SINISTERKNIGHT
Megaxero
PSYCHOTROPICA
INORIYUZURI
THEWANTED96
FasterthaMyou2
PA1NL3SS
COLLECT0R
DELM0RE
KASH1FKIM
S4NG
IVANMONSTER
MALIKHUSSAIN
Gator427
lordofarena