Post by Jussi on May 7, 2012 7:42:47 GMT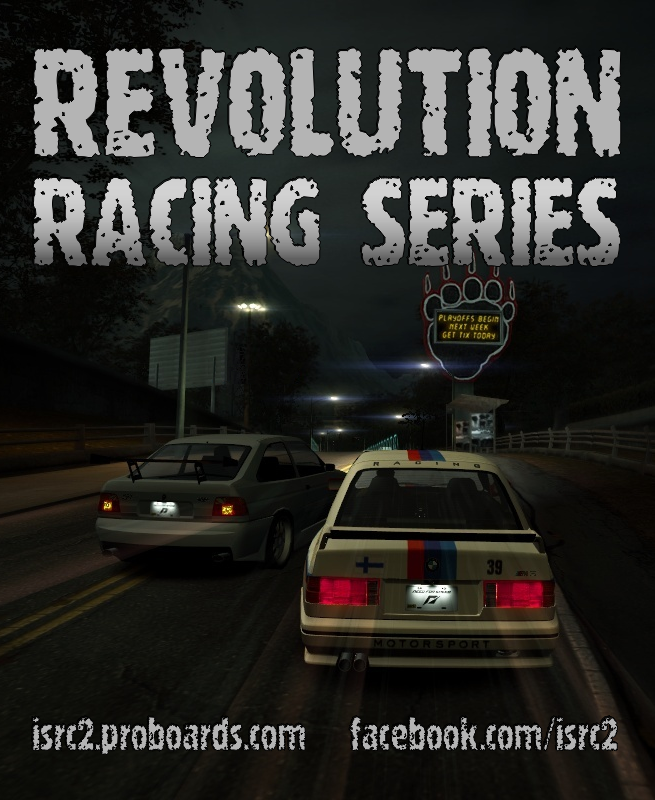 The name of the series Revolution Racing means that the fastest car or cars get added on the restricted cars list at the end of each race. In the first events, the kings from NFS WRC will already be restricted. By the last set of races, there will be at least 5 restricted cars in each tier (unless someone runs out of cars).
Driver classification system:
Revolution Racing Series will use ISRC's updated dynamic driver classification system, first seen in our
Need for Speed World Rally Championship.
It means that Participants will be racing against other people capable of the same sort of race records as they are. Current class names are Professional, Semi-Pro, Clubman, Rookie, Recruit, Weekend Drive, Sunday Driver and Holiday Driver. Each driver class is about 3% wide. Drivers' classifications will be issued to them according to their performance in all 3 tiers compared to the top times in the series.
Calculated times for missed events:
Missing the start of the series is not excuse for not joining the series later. Drivers who missed races at the start will receive calculated times according to their tier performance percentages in later events. Missing a race n the middle of the series is not a reason to quit, as players who miss races will be issued so called super rally times which will e calculated by adding 3% to what their time would have been according to their personal tier percentages.
The excel file that was used in the NFS WRC will give you an idea of how this works:
dl.dropbox.com/u/69028976/NFS%20WRC/nfs_wrc.xls
Events:
T1 - WEST PARK & LYONS - SPRINT  - Level 23 - WR 1:00
T2 - VERONA TUNNEL     - SPRINT  - Level 21 - WR 1:13
T3 - NORTH BELLEZZA    - SPRINT  - Level 22 - WR 1:17
-----------------------------------------------------
T1 - SKYLINE AVENUE    - CIRCUIT - Level 20 - WR 1:38
T2 - UNIVERSITY WAY    - CIRCUIT - Level 19 - WR 1:41
T3 - LITTLE ITALY      - CIRCUIT - Level 22 - WR 1:53
-----------------------------------------------------
T1 - BAY BRIDGE        - CIRCUIT - Level 21 - WR 2:11
T2 - CAMDEN TUNNEL     - CIRCUIT - Level 23 - WR 2:17
T3 - OCEAN VIEW        - CIRCUIT - Level 23 - WR 2:30
-----------------------------------------------------
T1 - VALLEY & STATE    - SPRINT  - Level 21 - WR 2:17
T2 - BRISTOL & DIAMOND - SPRINT  - Level 20 - WR 2:18
T3 - IRONHORSE & COAST - SPRINT  - Level 22 - WR 2:22
-----------------------------------------------------
T1 - OIL REFINERY      - CIRCUIT - Level 20 - WR 2:41
T2 - PARK BOUNDARY     - CIRCUIT - Level 17 - WR 3:05
T3 - HASTINGS          - CIRCUIT - Level 20 - WR 6:22
-----------------------------------------------------
Prizes:
There will be
random
raffles for Jaguar E-Type, Porsche Boxster Spyder and Lamborghini Diablo car codes. Notice that when these random draws are announced, you can only enter them if you have already raced in the race or set of races specified in the lucky draw announcement. Car codes are limited to one per racer, so if you win and get a chance to choose your prize, choose wisely.
There will also be a random draw or lottery for some
GamersGate Gold Starter Packs
at the end of the series for all those racers who have successfully completed the series. These starter packs include Tier 3 Ford Mustang Boss 302, Tier 2 Nissan Skyline GT-R V-Spec (R34) "Underground" edition, 8000 SpeedBoost and GamersGate exclusive "BRN RUBR" License Plate.
Reqistration:
Please post
all
your Need for Speed World driver names here in this thread, if you want to take part in our Revolution Racing Series. The races will be done with cars from all tiers and without powerups. The in game names are needed for confirmation board creation, if your name is not added to the board, your times will not appear on it and will therefore be invalid.
List of participants:
3IK
ABDMASTER
AFRAIDTW
ALBERT2
ALEFDRAGON
ALLTHEWAY
ASHOKTHOMAS
BABIS19944
BGRNYF
BLAHTYPEX
BMWMDRIVER
BOOMBOXCAKE
BUMBILEK
BUMBILEK2
BUMBILEK3
CCCPVPEREDI
CMACKENZIE
COOLJUST
COPKILLAR666
COPKILLAR777
CORAIRS
D0P4M1N
D1Q
DANNYGN
DANVEL37
DANWISE
DARKEYE565
DATATINJO
DISIZIT
DJXASHX
DRAG0NRAZOR
DRAGONRAZ0R
DRIFTEROFTOKYO
DRIFTKINGTOKYO
EAVESDR0P
EAVESDROP
EKARD
FAHADWAHEED
FOSSILFUELED
GHOSTRIDERTROL
GOLDENMAU5
GREEN26
GREENER26
GTRB
GUARDIAN92
HELLDRIVER
I8IJOKERI8I
IDE
IDENIGHT
IDESPEED
IIIIIKINGIIIII
IMPAK540
IMPAK540IGC
ISOFIX
ISRCJUSSI
JEFFRYREYES
JSSKPPNN
JUSSI
JUSSIKAUPPINEN
JUSTWATCHME
K4W4SHI
KAJAMAC
KAKSTER
KAMIKAZE9757
KEVAL
KLAIDIS
KNEWAL
KUGLOFFF
LAMBOGTRLM
LEGOR17
LIBYA
LILKAKSTER
LISTER88
LOED30
LUKASSVK
LUKASSVK2
MAAJUSSI
MACHBERN
MAGSTER
MAGSTER2
MAIROX
MAJA23
MCCREA
MIHXSER
MIHXSERG25
MITODONFSW
MROSKI53
NAMANBISHT
NEOPRODIGY
NERVOZNIPOSTAR
NEXQUUP
NFSHARP
NFSJUSSI
NTXXXNAMAN
PACERO
PAOLYTA
PARAGLEIBER
PENGUIN
PERFECT10N
PRAS26
PROUV
PUBLICENEMYBLR
PUMPEDUPKID
RACERBE5T
ROADRUNNERPT
ROCKETFUELED
SCOOBY
SGTKILOWOG2ND
SHIRUHANTA
SHWARZER
SKEVASRB015
SMITHSPEED
SPARC97
SPARCO23
SPIKER
SPINOUT718
STARFISH82
SUPRANA7URAL
SWOOS
SYNDROM69
TAIWANBEER
TAKIYAMASHI
TATASMOULA
TATASMOULA58
TCRSTAR
TGC
THEAWESOMEGUYS
THEBIGMAN06
THEONNLYONE
THETRUEKWRGT4
TIME2REST
TIME2REST2
TIMELUSTER
TIMELUSTER91
TIMTAYLOR2P
TIMTAYLOR3P
TIMTAYLOR4P
TMLSTR
VGJONO
VIJAYAPRAGAS88
VRC14011995
VVTR0LL3RVV
WAFFU88
WGSALEENS7
WGUNIQUE
WHALECAT
WHISBIH
WHISKEYANDCOLA
XAJNAJ
XXROCKZXX
YUUFA237
YUUFA4LIV
YUUFA777
ZAKITALBI
ZAKITHERACER
ZELTIL
ZEROREP
Jussi