Post by dimitrikhoz on Aug 8, 2011 2:36:15 GMT
Hey Guys,
here we go, my next post full of NFS Run NEWS:
1) It is no secret,
that EA and BlackBox are getting ready for the upcoming GDC and GamesCom trade fair in Germany.
During E3 in California, EA Team showed us playable Chicago Level of the game.
And, I bet, most of you can not wait to know the answer to the question:
What are we going to see in Cologne(Koeln)?

Do not worry,
Alex Grimbley from BlackBox together with the GiantBomb.com gave us an answer.
It will be - playable DeathValley (Run the Hills) level of the NFS Run.
Here is the video of the FULL LEVEL from the 1st second to the very end
with all loading screens paired with an exclusive interview with Alex:
While watching this video you will find new information
about the new driving bonuses and drivers' skills system in the game...
Also, one can observe that the total number of opponents is 150
and not 200, as some of you may thought before.
2) In the recent interview with Joystiq.com, Alex also confirmed
that MANUAL TRANSMISSION will be present in the game:
"It's a game that I can play with my uncle, who plays games occasionally and has fun.
But also me and my friends that are hardcore.
So there's a range of options, handling modes, manual and automatic
-- there are things that can level the playing field."
(www.joystiq.com/2011/07/27/need-for-speed-the-run-preview-getting-back-behind-the-wheel/)
3) Also if you had questions
about the STRANGE SYMBOLS on the sides of the Tacho/Speedometer -
read my answer: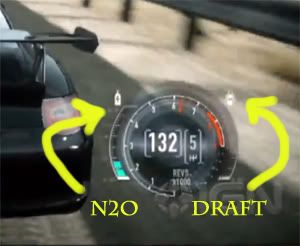 4) Another Polish videogames youtube channel MotoGamesTV
posted first COMPARISON of GRAPHIC engines between
NFS MW2010 and NFS Run:
But do not be upset.
It looks like they compared
maxed out PC version of MW2010 VS. pre-alpha PS3 version of the RUN !
Latest "Anatomy of the Scene" Trailer shows us a short footage of
how PC version of the game will look like (watch small scenes 1:11min and 1:55min) .
I am not sure whether it was PC, but it definitely looked better than in the EA's "Run the Hills" trailer.
Here is a screenshot for some of you who are unsure: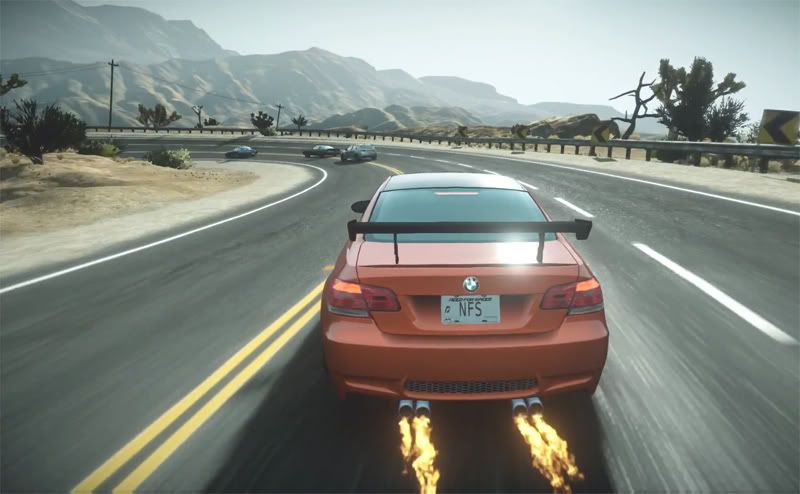 5) Information about the in-game CAR Choices:
"Car selection will vary from course to course,
with certain vehicles being recommended by the game over others,
but Grimbley said that
The Run won't restrict players from using whatever unlocked vehicle they prefer.
While it wasn't active in the demo,
The Run will incorporate an experience system that unlocks additional vehicles as you progress...

...A huge jump at the end of the course did a great job of showing off the game's new rewind feature,
as we promptly slammed the Porsche into a telephone pole after an unstable landing."
(www.gamesradar.com/xbox360/need-for-speed-the-run/preview/need-for-speed-the-run-hands-on-preview/a-201107271329503061/g-2011042995246227005)
5) So, let's talk a bit about this brand-new REWIND Feature:
Here is information obtained from the Gamespot's Preview of the Run:
"Unlike other games where the rewind feature is available to use at anytime,
here, it kicks in only in certain situations; specifically, those in which you crash and total your car.
Now, rather than having to replay particular races all over again,
you are taken back to the last-reached checkpoint and can attempt that particular spot again.
The vehicles are put back in their same spots,
and now you have the opportunity to fix the mistake that may have caused the first accident to occur.

Although it's nice that you don't have to restart a particular race from the beginning,
racers are still penalized for using this feature.
While the number of rewinds resets after each race,
your race timer does not, and this will factor into bragging rights.
Also, depending on the game's difficulty,
the number of times you can use this feature is limited.

The popular Autolog feature makes its return in The Run,
and your use of rewinds will factor in how much you'll be able to show off to friends.
Because the timer does not reset, if you use the rewind feature, don't expect to get a really good time. Also, even if you do manage to beat your friend's time,
if you used a rewind, your score is tagged as such, and it won't hold as much merit."
6) From another insider interview with Gamerlive.tv
I got information about NEW GAMING MODES in the game:
"Besides Sprint Races,
you can expect to parcticipate in Time Attacks, Rival Battles, Cop Pursuits, and Survival races
where you'll have to avoid avalanches and such.
The races where you get out of your car are called Big Action Events, and those only occur at key points in the race.
In total, there is still plenty of racing fun to be had inside your car."
(gamerlive.tv/article/hands-need-speed-run-still-racing-game-its-core?page=0,1)
So we all know Sprint Races, Time Attacks, and Cop Pursuits from previous NFS Series.
Let us get some extra info about Rival Battles ans Survival Races:
"Rival Battle races
pit you against an angry AI opponent who's had his aggression cranked to 11.
Fortunately, there's some continuity at play,
and once a rival has been eliminated, they're out of the race for good.

Survival mode
is likely to be the sticking point, as it's where you'll find the game's QTE sequences.
While we didn't get to see any of these sequences during the demo,
a quick snippet in the trailer showed a car narrowly avoiding an avalanche on a mountain road.
The intent of these scenes is to add a cinematic flair to the game,
and from what we understand this is where the game's usage of the Frostbite 2 engine will be most apparent."
(www.gamesradar.com/xbox360/need-for-speed-the-run/preview/need-for-speed-the-run-hands-on-preview/a-201107271329503061/g-2011042995246227005)
7) Also from the same source:
"With over 168 MILES of in-game track, The Run has set a new record for the NFS franchise."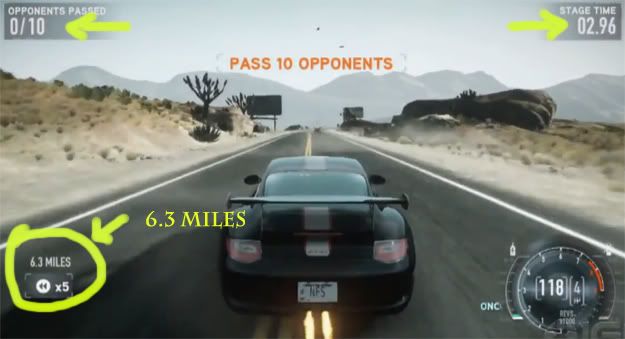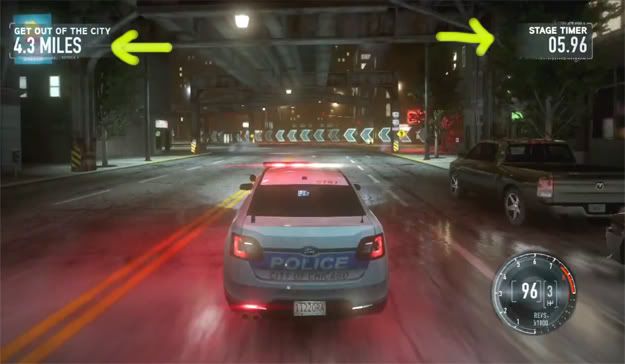 As we can see from the screenshots made at the start of Chicago and DeathValley Events,
an average NFS Run Level is 6 miles long, which results in 168/6 = 28 full unique events.
Some sources say that there will be about 200 miles + DLC events,
so I 'd say we can expect about 40-50 in-game Levels
8) I am pretty sure, that some of you, Guys,
saw that "mysterious" pick-up truck in my last screenshot from Chicago.
You are right, it is time for the Car List Update.
Recently, EA made an official presentation of 2 new in-game cars:
- Volkswagen Scirocco R(www.needforspeed.com/therun/car/volkswagen-scirocco-r)
Cool European car, but not known at all in the USA.
- Nissan 200SX (S14)
(www.needforspeed.com/therun/car/nissan-200sx-s14)
200SX is again an European version. In the USA this car was called 240SX, in Japan – Silvia.
Now, it is my turn to present 2 new NFS Run Cars as well

:
Let me start with the first ever pick-up racing truck featured in the NFS Series
- Dodge Ram (likely) SRT10 !!!
Looks like a dream of many USA NFS Fans from the country side came true !!!
We could only wish to have Ford F-150 SVT Raptor in this game as well.
This Ram utilizes Viper's V10 8.3L Engine cranking 510 HP and 525 lb.ft,
doing 0-60 and ¼ mile in 4,9 and 13,6 sec respectively,
which is on par with such racing icons like BMW M3 or Camaro SS.
It's 22 inch Rims are fitted with Pirelli Scorpion P305/40R-22 performance tires.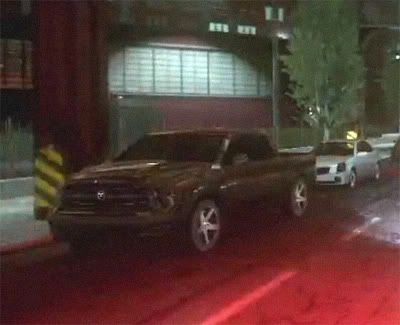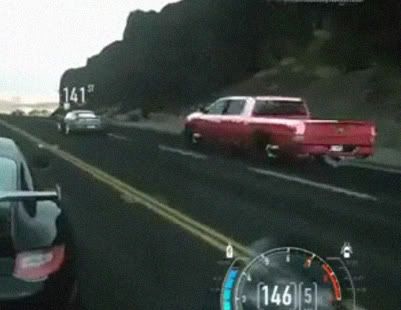 Another car I want to introduce here, is also unique in a way,
because it is the first Station Wagon car in the NFS History
and the last full-size station wagon sold by an American automobile manufacturer in the United States
- Dodge Magnum SRT8 with the 370ci Hemi engine
Production of this car ended in March 2008,
but on July 17, 2011, Ralph Gilles - Chrysler Group Design Chief and head of the SRT division
told the New York Times that Chrysler may revive the Magnum.
It is very nice to see Sport Station Wagons entering the NFS Series.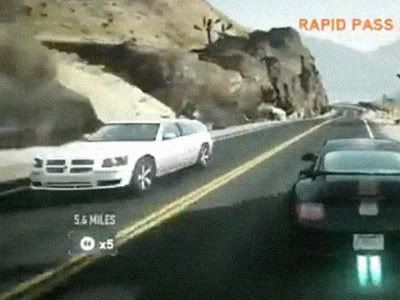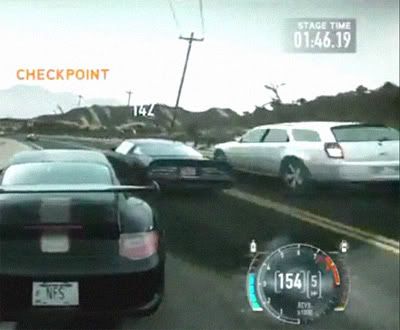 9) Also, I completely forgot about
the NFS RUN CARBON CHALLENGE SERIES.
It is a Challenge Series exclusively tied to pre-orders made via Origin Platform:
(store.origin.com/store/ea/en_US/pd/productID.229170000)
"Pre-order Need for Speed The Run and unlock two bonus cars and three events inspired by Need for Speed Carbon.
Behind the wheel of the Corvette Z06 and Darius' famed Audi R8, you'll rocket around mountain roads and weave through narrow canyon passes while battling rivals at every twist and turn.
Experience the thrill of Need for Speed Carbon all over again."
There is no word about it on the NFS Run Website although,
but I assume it is another omission by EA's Web-Developers.
So, we have one more confirmed car for the NFS Run
- Chevy Corvette Z06.
And to finish the series, one more screen of the previously introduced
- Audi A3 Quattro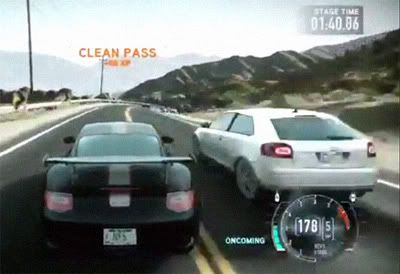 10) Now, let's publish our Full CONFIRMED Car List again:
1. Aston Martin V12 Vantage
2. Audi A3 Quattro **
3. Audi R8 Coure 5.2 FSI Quattro
4. Audi RS4 **
5. Bentley Supersports ISR *
6. BMW M 1 Series Coupe
7. BMW M3 E30 Sport Evolution
8. BMW M3 E93 GTS
9. Bugatti Veyron GS or SS *
10. Cadillac CTS **
11. Chevrolet Camaro ZL1 ***
12. Chevrolet Corvette Z06 (Carbon Edition?)
13. Dodge Challenger '71 426 Hemi
14. Dodge Challenger '09 SRT8
15. Dodge Charger SRT-8 **
16. Dodge Magnum SRT8 **
17. Dodge Ram SRT10 **
18. Ford Mustang Boss 302
19. Ford Shelby GT500 SuperSnake
20. Ford Taurus SHO Police Interceptor
21. GMC Savana V8 **
22. Hennessey Venom GT *
23. Lanborghini Aventador LP700-4 ***
24. Lamborghini Gallardo LP570-4 Superleggara
25. Lamborghini Miura P400SV
26. Lotus Evora
27. Mazda MX 5
28. Mazda RX7 Type RZ
29. McLaren MP4-12C
30. Nissan 200SX (S14)
31. Nissan 370Z (Underground Edition?)
32. Nissan Fairlady '70 240ZG
33. Nissan Skyline GT-R SpecV (R35)
34. Nissan Skyline R32 GT-R
35. Nissan Skyline R34 GT-R (Underground Edition?)
36. Pagani Huayra
37. Pagani Zonda Cinque ?
38. Pontiac Firebird '77 Trans Am
39. Porsche 911 Carrera S '11 ***
40. Porsche 911 GT2
41. Porsche 911 GT3 RS 4.0 RSR
42. Porsche Cayenne Turbo **
43. Subaru Impreza '10 WRX STI
44. Volkswagen GTI Mk1
45. Volkswagen Scirroco R
* - PS3 only
** - confirmed traffic car, probably drivable
*** - Limited Edition
That is it, for today.
And stay tuned for my next full post about in-game physics and damage.